On May 14, 2005, I was awarded an honorary Doctor of Science (D.Sc.) from the State University of New York. The award was made at my alma mater, the SUNY College at Brockport.
Citation
The citation with the degree reads as follows:
Your world-renowned research and expertise in the area of computer and network security, computer crime investigation and information ethics is highly valued by the government, citizens and businesses alike. You advise several federal agencies including the National Security Agency, the Federal Bureau of Investigation, and the Department of Energy, as well as major corportations including Microsoft, Intel and Unisys on matters of national security. You have served as a member of the President's Information Technology Advisory Committee, and you have been called upon to offer testimonies before several congressional committees. As a member of the US Air Force Scientific Advisory Board, you provided advice to the Chief of Staff of the Air Force on technology issues. You return to SUNY College at Brockport often to speak with students, faculty and staff on topical issues of concern. Your assistance on restructuring the College's computer science curriculum has earned Brockport the distinction of being one of only three SUNY schools offering a computer science program accredited by the Computing Accreditation Commission of the Accreditation Board of Engineering and Technology.

For your internationally known and illustrious acievements in the field of computer science and security and for the positive impact that you continue to have on those who follow in your footsteps at your Alma Mater and throughout the world, the State University of New York salutes you and confers upon you the honorary degree of Doctor of Science.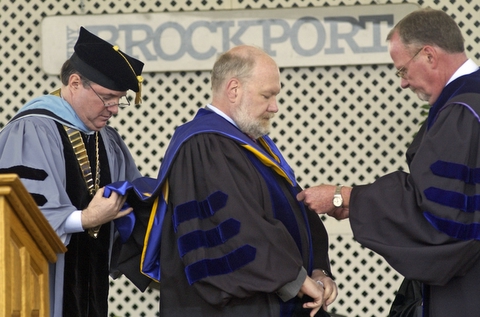 My Remarks
Subsequent to receiving the hood and citation, I made (approximately) the following remarks.
President Clark, Provost Flanagan, Professor Nettleford, my colleagues on the platform, faculty, students, parents, and friends -- good afternoon.

I've been asked to keep my remarks short. That's understandable given the weather forecast, and because given the choice between listening to me and getting away to your graduation parties, I doubt there is much of a contest.

But I do want to use this opportunity to relate my gratitude in three directions. I will try to be brief.

If you read my brief biography in the program you would note that I am living in Indiana, where Purdue University is located. I have been there 18 years. Prior to that, I spent 8 years in Atlanta on my graduate studies and a post-doc position. Despite those many years away, this part of the country will always be home to me. I was born at Rochester General Hospital 49 years ago. I lived the first few decades of my life in Greece, NY -- about 10 miles northeast of here. And as you heard in my introduction, I received my undergraduate degree here 26 years ago in a ceremony very similar to this one. In fact, my sister and I both received our degrees in 1979, both of us with double majors in math and in computer science.

After graduation, I continued on to graduate school, and from there became a professor of computer science. My particular interest in computer security was well-timed, and along with hard work and some lucky breaks, I've been able to make some notable contributions to the field.

The point I want to make here is that over the last 3 decades -- whether studying as a graduate student, advising the President, writing one of my books, traveling overseas, addressing conferences, simply teaching my classes, or any of several hundred other things -- I have often reflected how my life was enriched by my undergraduate experience at Brockport. I learned a lot here, and perhaps more importantly, I learned a great deal about how to continue to learn. I am very grateful for the experiences I had here.

Related to that, I would like to say "thank you" to all the faculty and staff of the college. I would especially like to thank those faculty and staff members who helped mentor me, most of whom are no longer here. I know I did not fully appreciate then what a difference they were making in my life. Now, as an educator myself, I have a much deeper recognition of their contributions and dedication.

And the third thing I would like to say, is that I owe a huge debt of thanks to my family and friends. In particular, my parents sacrificed a great deal to ensure that my sister and I received a good education. Several cousins, aunts, and uncles all contributed in tremendous ways, too. We did not have a lot of money, but we had a great deal of encouragement and support. In any way that I have succeeded, it has not been alone, but thanks to their support and encouragement. I mentioned my sister Peggy earlier, and she has also played a large role in my life. I'm proud to say that she has also done extremely well, having earned a Ph.D. and made a career as both a mother and as a senior analyst for the U.S. Navy. Brockport was good for her, too.

And with that, I will close. I encourage each of you to thank those around you who have helped you make it to this special day. Continue to build on what they have helped you learn: Those of you getting a degree today have a wonderful foundation on which to build, whether it is in small increments or as grand castles. Build and dream, and although you may not believe it, one day you could be the one up here. Whether that happens to you or not, your years at Brockport will always be a special part of your life, and a foundation for whatever you achieve. They certainly have been for me.

Once again, my thanks to everyone, past and present, who contributed to my being here today. And my sincere congratulations to you, the class of 2005.